Our Story
One hot, hungry summer a newlywed couple jetted off to Spain…
Enchanted by tapas, conservas and afternoon cañas, we quickly fell in love with Spanish cuisine. Appetites inspired, we scrapped our sightseeing agenda in favor of shopping trips to local grocery stores and boquerias. After amassing a hefty cargo of epicurean gifts, we needed a new suitcase to haul it all home. These delicious mementos delighted our family and friends, and now we're excited to share them with you. We hope you enjoy these souvenirs as much as we savored our own Spanish Suitcase!
¡Buen Provecho!
Paul & Tara DeGeorges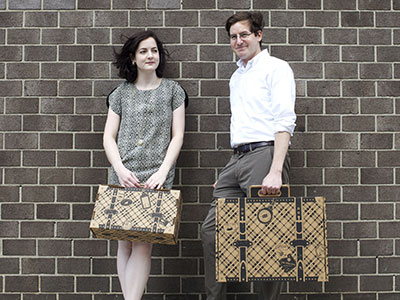 Photo by our friend Daniel Arnold
Our Company
Spanish Suitcase is a New York City-based online retailer of unique gift baskets featuring gourmet foods from Spain. We are a husband and wife team with backgrounds in digital media who started this company out of a mutual passion for European travel adventures, foreign grocery aisles, Spanish tuna and large carafes of vino tinto. We invite you to savor the gifts of Spain that delight us by shopping our range of Spanish gourmet gift assortments and browsing editorial features on the cuisine and culture of Spain.
Our Mission
We strive to provide customers with exceptional food experiences from Spain, helping them savor the same gourmet souvenirs that we enjoyed during our travels. Each "Suitcase" and "Carry-On" collection features an assortment of Spanish foods that we've hand-selected for their excellence in flavor, packaging, production and sustainability. We stand by each of the products on our website, and are committed to providing you with equally personal customer service.