Recipe by Chef Virginia Monaco
Romesco, a Catalan roasted vegetable sauce, is wonderfully versatile. It not only pairs well with grilled vegetables and meats, but also makes a great sandwich spread and complements egg dishes. This Romesco recipe will prepare more than you will need for the potatoes, but that's because I always like to have extra to supplement other meals. For baking and serving, if you don't have Spanish cazuelas — or terracotta cookware — a casserole, gratin or ovenproof dish will do the trick.
Serves 4
Ingredients
For Romesco sauce:
3
dried ancho chiles
5
ripe plum tomatoes
(substitute a small can of San Marzano tomato puree if tomatoes are out of season)
1
red bell pepper
6
cloves garlic
, peeled
3/4 cup
almonds
1 cup
olive oil
, plus more for toasting bread
1
slice country bread
, about 1 inch thick
1/2 tsp.
smoked pimentón
1 tbsp.
sherry vinegar
1 tbsp.
salt
For potatoes:
2 pounds mixed colors of new potatoes
4 ounces chorizo
For eggs:
4 eggs
2 scallions, green and whites thinly sliced
Preparation
1. Preheat oven to 400°.
2. Soak dried chiles in hot water to soften.
3. Lightly coat peppers, tomatoes and 5 garlic cloves in olive oil. Place in broiler as close to the flames as possible. Remove skin as it blisters and blackens – garlic is usually done first while the pepper is usually finished last. Allow to cool. Peel and deseed peppers and tomatoes.
4. Lightly coat a heavy pan with olive oil. Toast the bread until golden on both sides.
5. Drain chiles and add them, tomatoes, pepper, 1 clove of raw garlic, 5 cloves of roasted garlic, toasted bread, almonds, salt, vinegar and paprika to a food processor. While running, drizzle in olive oil. Run until mostly smooth, some small bits of almond will remain.
6. Medium dice potatoes, leaving skin on.
7. Microwave potatoes on high for about 4 minutes or until barely tender, but still quite firm.
8. Heat olive oil in a heavy skillet and add potatoes. Brown on all sides.
9. Small dice chorizo and reserve.
10. Lay potato mixture into large Spanish cazuela, gratin or casserole dish. Sprinkle chorizo on top. Spoon about 1/2 cup of Romesco mixture over top of eggs. Make four wells, or indentations, in the romesco and crack eggs into each opening.
11. Bake until egg whites are set, but yolk is still soft, about 15-20 minutes.
12. Garnish with scallion and enjoy!
Chef Virginia Monaco pairs Romesco, a popular Catalan roasted vegetable sauce, with baked eggs, potatoes and chorizo in a unique, Springtime Spanish recipe.
Virginia Monaco for Spanish Suitcase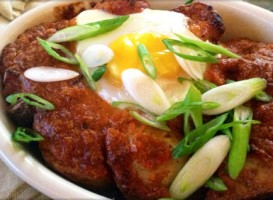 Serves 4


45 min

8 responses to "Recipe: Baked Eggs with Roasted Potatoes, Chorizo and Romesco"