Recipe by Chef Virginia Monaco
Croquetas de bacalao, or salt cod croquettes, are a fixture in Spain's tapas scene. While labor intensive to prepare, these creamy bites – complimented by tangy garnish and decadent aioli – are worth every minute spent in the kitchen. Prepare this dish one day in advance to allow for soaking the cod and hardening the croquette mixture.
Serves: Four servings of four croquettes
Ingredients
For the croquettes:
1/2 pound salt cod
1 quart plus 1/4 cup milk
1/8 cup olive oil
4 eggs
2 medium Yukon gold potatoes
Zest of one lemon
1 quart canola oilfor frying
2 cups of flour
2 cups of plain bread crumbs
For the garnish:
3 piquillo peppers
1 cup pitted empeltre olives
1/2 cup Marcona almonds, halved
1 lemon, flesh segmented away from skin, cut into small dice
2 tbsp. olive oil
1 tbsp. chopped parsley
For the aioli:
2 healthy pinches of saffron
1 cup water
2 egg yolks
1/2 tbsp. Dijon mustard
1.5 tbsp. sherry vinegar
1 tsp. salt
1.5 cups canola orgrape seed oil
Preparation

1. Place salt cod into a bowl and cover with salt water. Keep bowl in the refrigerator for at least 24 hours, changing the water a few times a day in order to remove the salt. Drain cod.
2. Add soaked cod to a pot and barely cover with one quart of milk. Cook cod slowly over low heat, never boiling, until the fish falls completely apart, about 90 minutes. Drain cod from milk and flake into a large bowl, bring sure to feel for and remove any bones.
3. Peel potatoes. Add to a pot filled with cold, salted water and bring to a boil. Cook until tender and cooked through. Put warm potatoes through a potato ricer or food mill into the bowl with the cod. Add oil, milk, one egg and lemon zest. Mix thoroughly with both hands, breaking up with cod, until the mixture is the consistency of lumpy mashed potatoes. Taste for seasoning.
4. Using a small ice cream scoop, form the mixture into 1 inch balls and place on a baking tray. Place in freezer until balls become firm, overnight if necessary.
5. Set up a breading station consisting of a bowl of flour, a bowl with 3 beaten eggs and a bowl with the breadcrumbs Take the frozen salt cod croquettes and dredge in the flour. Then, dip croquettes in the egg and roll them in breadcrumbs. When all croquettes have been breaded, return the sheet tray to the freezer. Let set about an hour and repeat the breading process.
6. Add enough canola oil to a heavy bottomed pan to allow for frying, about 3 inches. Heat oil to 375°. Fry the croquettes in batches until golden on all sides. Remove to a tray lined with paper towels and drain.
7. Add the saffron and the cup of water to a small pot. Bring to a boil and allow to boil until water has 90% evaporated Add the sherry vinegar to deglaze. Add all liquid and saffron to a blender with the yolks, mustard and salt. Run the blender and slowly drizzle in the oil to make the aioli. Add a few drops of water if necessary for a thinner consistency.
8. Combine all ingredients for the garnish and mix well.
9. To plate, use a spoon to swipe a healthy amount of aioli along the bottom of a small bowl. Spoon garnish next to the aioli and arrange four croquettes in a pyramid on top.

Salt Cod Croquettes with Pepper-Almond Garnish and Saffron Aioli


This exclusive recipe from Chef Virginia Monaco for Spanish Suitcase pairs creamy croquetas de bacalo, or salt cod croquettes, with piquant saffron aioli.

Virginia Monaco for Spanish Suitcase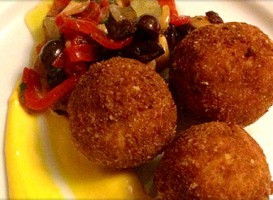 Serves 4


45 min