Recipe courtesy of José Andrés' Tapas Deck: 50 Little Dishes That Capture the Essence of Spanish Cooking, published with permission from Random HouseRomesco
, or Catalan roasted-vegetable sauce. This recipe combines ingredients that everyone seems to love: peppers, tomatoes, almonds, bread and onions. It is a wonderful match for seafood and meats.
Ingredients

1/2 cup Spanish extra-virgin olive oil, plus extra for coating the vegetables
1 red bell pepper
6 ripe plum tomatoes
1 head garlic, halved, paper outer skin removed
1 Spanish onion
3 ñora chili peppers, (or any other dried sweet chili pepper)
1/4 cup blanched almonds
1 ounce white bread, crust removed
1 tablespoon sherry vinegar
1 teaspoon pimentón (Spanish paprika)
1/2 tablespoon salt

Heat the oven to 350°. Brush a thin film of olive oil over the pepper, tomatoes, garlic and onion. Place them in a medium roasting pan, and roast until all the vegetables are soft, 25 minutes.
While the vegetables are roasting, place the ñora chilies in a bowl and cover with hot water. Soak for 15 minutes. Strain, and remove the seeds. Place the chilies in a blender and puree until smooth. Pass the puree through a fine-mesh sieve into a bowl and set aside.
Heat 1 tablespoon of the olive oil in a small sauté pan over low heat. Add the almonds and sauté to brown them a little, about 1 minute. Remove the almonds and set them aside. Raise the heat to medium and add the bread to the pan. Cook it until it becomes a nice brown color, around 30 seconds on each side. Remove the bread from the pan and set it aside.
Add the pureed ñora to the sauté pan from the oven and set it aside. When the roasted vegetables are cool enough to handle, peel them. Seed the bell pepper and tomatoes, and cut off their tops. Place the roasted vegetables in a blender or food processor and add the almonds, toasted bread, pureed ñora, vinegar, pimentón and the remaining 7 tablespoons of oil. Blend until it forms a thick sauce, and add the salt. Place the romesco sauce in a bowl.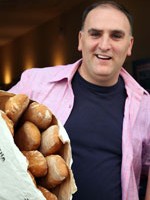 José's tips
"Here I add fresh bell pepper to the romesco, but traditionally we use only the dried ñora peppers that are so typical of Catalanonian cooking."

One Response to "Recipe: José Andrés Romesco (Catalan Roasted-Vegetable Sauce)"