This week marks the end of our sweeps with Drink Ribera, where Facebook fans entered for a chance to win a Spanish Suitcase gourmet gift basket, specially curated to showcase fine foods from the Ribera del Duero region and surrounding areas.
Meet our four lucky winners, who will get a chance to experience a taste of Ribera at home by unpacking the foods in their chic, eco-friendly suitcase:
– Paul W. of Philadelphia, PA
– Michelle B. of Akron, OH
– Deborah V. of New York, NY
– Jessica R. of Urbana, IL
Looking to enjoy the riches of Ribera up close and in person? Today we're bringing you some travel tips for visiting the region. Here are the top recommendations from our fans on Facebook and Twitter. Have your own to add? Comment here and we'll add them to the post.
Where to Imbibe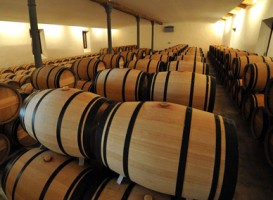 Twitter friends Julia and Patrick of the blog Spanish Thyme Traveller recommend visiting Bodegas Mauro vineyards in Tudela de Duero, a historic town in the province of Valladolid. In operation since 1978, Mauro produces some of our favorite wines from tempranillo grapes, including the distinctive Prima and Terreus — a complex red with notes of black currant and coffee, and a long, spicy finish. Spain Thyme Traveller also recommends adding the wineries of Matarromera to your agenda, located in the heart of the Duero valley and producer of sustainable wines since 1994. The Matarromera firm also produces extra virgin olive oil and a collecton of cosmetics derived from regional grapes.
How to Get Around
The rolling hills of Ribera are best traversed by car. In addition to touring vineyards, there are many side trips easily reached via motor. Our Facebook fan James Aranda recommends exploring the many villages nestled in the Duero valley — including the romantic castle town of Peñarada and the ancient Roman city of Clunia, now home to some of Iberia's prized archeological remains. Several of our Facebook fans also recommend attending the prestigious music festival in Peñafiel, celebrating its 1,000th anniversary this year, if you're visiting between May and November.
Where to Stay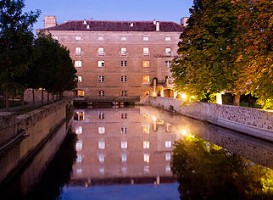 After touring all day, jet-setters need a comfortable, private place to decompress. For top notch accommodations, we recommend Hacienda Zorita in Salamanca. A "blissful retreat, encircled in vineyards," this former monastery offers true hacienda hospitality. Guests can enjoy one of 40 spaces in this intimate hacienda, including some suites that overlook the River Tormes. The star attraction of this luxury hotel? Guests can join a wine tasting and tour of its Marqués de la Concordia wine cellar, home to 1450 oak barrels. If you're looking to get some pampering while in Ribera, Facebook user Adelina Figueroa-Siso also recommends Arzuaga Hotel and Spa where guests can enjoy "wine therapy" treatments to reduce stress, minimize wrinkles, and increase muscle tone.
One response to "Ribera del Duero See & Stay Travel Tips from Our Fans"